We have some very learned sisters and brothers on this forum. I count it as a great privilege and pleasure to witness what is unfolding here, which is but a microcosm of what is happening all over the planet. Some of our learning has come from books, but much knowledge is revealed by the Spirit Himself as He writes upon our hearts. Then there is the wisdom which comes from experience, as Solomon can attest to. And not only Solomon, but at least one other cowpoke who noted, "Good judgment comes from experience, and a lot of that comes from bad judgment."
For a reason known only to God, I have been given a heart for Islam. He let me spend a couple years in Iraq during "Operation Iraqi Freedom" (or was that "operation extend the power of mystery babylon"?). The day I left the united states was the day they captured Saddam Hussein, and the day I left Iraq was the day the Iraqi people held their first democratic elections. It was an interesting time--and seemed a good time--to be in ancient Babylon. During that period I still maintained my teaching that christianity was a faith superior to islam, noting the many similarities islam held with catholicism and indeed all of the babylonish religions. Indeed, those who know me know that I am--or rather have been--rather outspoken against religion in all of its forms, whether it be catholicism, protestantism, islam, judaism, government, pseudoscience, medicine, environmentalism, politics, unionism, gay activism, celebrity-worship, football, what have you. It almost seems that my own personal religion has leaned towards taking a delight in slaying sacred cows. Perhaps if the worldly powers had taken more of an interest in making my life comfortable then I might have been more loyal and less of a burr under its saddle . . .

Something has happened to me in recent years. I can say that it has been most dramatically experienced since the day I made Todd's acquaintance. He introduced me to the doctrine of the "Restoration of All Things" whereby all of God's creation is destined to be restored unto Himself. I had long suspected the Truth in this great idea. Jesus says in Mat 18:14
Even so it is not the will of your Father who is in heaven that one of these little ones should perish.
And if this is His will, and if God is truly sovereign, doesn't He get what He wants?
So now God has brought Muslims into my life. In particular there is one, Adnan (meaning
Eden
) who is a young man I invested 15 weeks of classroom time with. Adnan eagerly received my sharing concerning the reflection of God's heart in scripture and in turn shared with me the understanding he has gained from the Quran. I was delighted to discover that his knowledge both complemented and gave further depth and breadth to my own. His love and authority opened my ears, much in the same way as when I was introduced by another man to Christ some 29 years ago. A few weeks later I asked Adnan to recommend a good english translation of the Quran and in a couple days he had it in my hand. Admittedly, I haven't read too much in this book, but I found the first chapter (Sura 1) to be beautiful: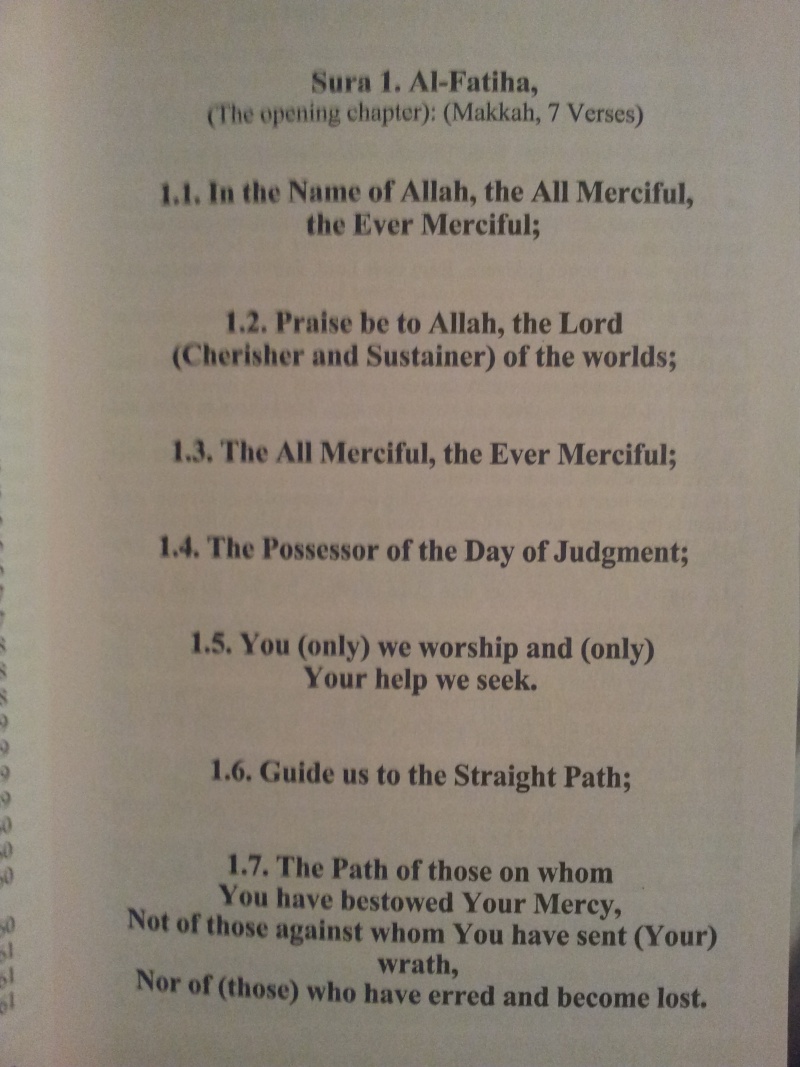 I especially love how I have been offered a new definition for the word "Lord," that is Cherisher and Sustainer. This doesn't so much add to or replace anything of my understanding of Him, as to give me a new focus if I am to have hope to judge with Him according to His mind and heart in this new aeon.
Has Islam become unfairly maligned among modern christians? I believe that it has. There are some very learned scholars who teach that Allah is the "moon god," and that muslims (meaning submitted ones) thus serve a lesser god than we do. I don't know about all of that. Isn't it enough that they put their faith in the One Supreme Being, the Most High God, Creator of all things? Wouldn't we be talking about the same Self-Existent One, even if different languages provide different monikers for the One? Muslims are monotheistic, as are jews and christians and even ancient chinese as it turns out. Muslims believe in the Torah and the Gospels as sacred texts. They also have their Hadith, written after the Quran and commenting on its contents, which may be akin to the Talmud in that respect. And even so with the epistles perhaps? I believe that the Talmud represented a wrong turn towards worshiping the traditions of men vs. Word of God. Does the Hadith represent an Islamic parallel to judaism's Talmud? And now I wonder if the epistles are as divine as the Torah and Gospels. Todd says it is proven that they are, and perhaps I could use a little more information on this because the question has come up once in my life before and I just took it on faith that all 66 books selected by the Westminster Assembly in 1647 to be included in the Authorized Version of the Bible represented everything that the Holy Spirit desired that we hear. I feel rather sheepish for even raising the question, but in this forum I feel safe in doing so. There were many times and places where I might have been stoned for this! I believe that someone here will have the perfect response, both truthful and loving. I have for years believed that, in the words of Chuck Missler, "The great discovery is that the Bible is a message system: it's not simply 66 books penned by 40 authors over thousands of years, the Bible is an integrated whole which bears evidence of supernatural engineering in every detail!" That under a mathematical analysis it can be shown that everything contained within is of divine origin, and furthermore that nothing has been left out. I have taken this all on faith, but have not verified it for myself. I have seen, however, how the Lord has verified certain passages to me in a very personal and supernatural way.
Some will say that I am over-thinking this, that "this isn't rocket science." Oh, how I have come to hate that expression! The Lord has always come to meet my little faith with evidence which increases it. Remember when Jesus was speaking to Thomas?
Joh 20:29 Jesus said to him, "Thomas, because you have seen Me, you have believed. Blessed are those who have not seen and yet have believed."

There are some who are so much more blessed than me! I have always seemed to be needing to see. . .
Why do I have so many questions and so few answers? It was not always so with me! I used to be able to be just as dogmatic as the next guy. He has shown me in so many ways that all is not as it appears, and that when I have come across as being self-assured I have simply not represented Him well at all! I have put a lot upon my Brothers and Sisters here. And it may break your heart when I say I haven't yet arrived at my big question. . .
While Christians--for the most part--have not read the Quran, they seem to be able to invalidate it. Muslims--on the other hand--are taught to read and to revere the Torah and the Gospels. They reverence Mary and Jesus (Isa), and believe in the virgin birth. They seem to believe most of what we believe about Jesus, just not that He is truly God but is instead an esteemed prophet. They also don't seem to buy into our belief that Jesus was crucified. I don't know truly if this is what is taught in the Quran, or whether these are traditions of men. These are bits I have picked up from some new facebook friends and off of the internet. I suppose that I should study the book some more and discover for myself. If only I could read arabic! I would have much more confidence that I was getting my information from somewhere closer to the source.
So now, here is my (big) question, finally. I am persuaded that Jesus was the firstborn of all creation, that all that was created was created through Him. I believe that He and the Father are one (in total agreement). I believe that His life, and His sacrifice fulfilled the law and the prophets, and through this final, perfect sacrifice all of our sins are accounted as if they were not. I believe that at His second coming sin is removed from us entirely, and that there is no more need for such "creative accounting." I believe that during the next (or present?) age, the overcomers in Him will rule and reign with Him as He puts all of His enemies (nations, authorities) under His feet, the last enemy being death. I believe that when He has finished this work then He will relinquish His throne to the Father, as there will be no more need for authority or power.
1Co 15:28 Now when all things are made subject to Him, then the Son Himself will also be subject to Him who put all things under Him, that God may be all in all.
Now, what comes of Jesus Christ at the end of His reign? The Father first put His Son in authority, then the Son finishes His work and again becomes subject to the Father. This is difficult for me to smoke out, but I feel that it may be key to reconciling the christian and islamic faiths so both can see that God is indeed sovereign and that He reveals Himself to whomever He chooses and in the time and manner of His choosing.
And before you say it, let me just say it first. I am aware that this may be just all that much "mental masturbation," that my attempts at arriving at a "unified theory" about our Creator misses the point entirely. After all, we are called to love God with all of our hearts and to love our neighbor as we love ourselves. It is just as simple as that. Oh, THIS I want to do! And that we love Him because He first loved us. I seem to be hell-bent upon arriving at it the hard way, whereby I am slowly learning to disqualify any platform where I once felt I was solid to stand in judgment. It seems as if I am almost there, even as I have now taken the new stand whereby I love the person yet hate the institution in almost every case. But it seems as if I am destroying myself in this process. Can this be His will? Or is it just more of my own willfulness? And again, I love Him because He loved me first. Is it incumbent upon me to cipher out that love, just to see how much? Is this what we are doing here in this fellowship?